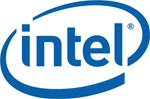 Planned for 2013, Intel's 4th Generation Core processors codenamed "Haswell" will be available for desktops, mobile devices and ultrabooks. Preliminary specifications of the Haswell desktop chips have appeared online at the VR-Zone web site, so we take a look.
Intel is expcted to release the Haswell processors for desktops in two phases beginning sometime in early second quarter.
As you see in the table below, the high-end lineup of the Haswell processors for desktops will be the Core i-series 4000-family, consisting of quad and dual-core Core i7 and Core i5 models. They integrate the Intel HD Graphics 4600 core, turbo mode for increased CPU base speeds, Hyper-Threading technology. Other important features include Advanced Vector Extensions 2 or AVX 2.0 as well as AES-NI instructions improvements.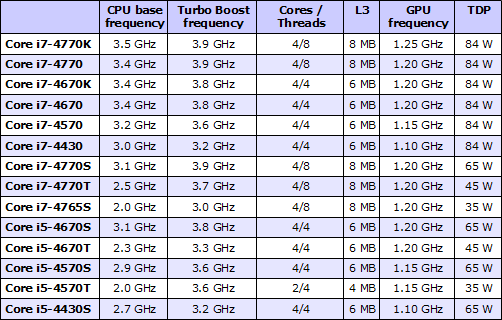 The Haswell processors will also feature dual-channel DDR3/DDR3L memory controllers with DDR power gating support and three PCI Express 3.0 controllers.
The new chips will be built in the LGA1150 package, and will be accompanied by Intel's 8-series "Lynx Point" chipset.
Leading the pack is the Core i7-4770K (unlocked) and i7-4770, clocked at 3.50 GHz with 3.90 GHz Turbo Boost, featuring eight threads with HyperThreading, 8 MB of L3 cache, Intel HD Graphics 4600 iGPU clocked up to 1250 MHz, with 84W TDP. Two more chips follow; the Core i5-4670K (unlocked) and i5-4670 clocked at 3.40 GHz with 3.80 GHz Turbo Boost, and 6 MB L3 cache. The Core i5-4570 and i5-4430 are clocked at 3.20 GHz (3.60 GHz Turbo) and 3.00 GHz (3.20 Turbo).
The Core i7/i5 "S" series reduce TDP to 65W while maintaining clock speeds, while Core i7/i5 "T" series reduce TDP to 45W.
Intel says that it has reduced the platform idle power of Intel Core "Haswell" processor family by more than 20 times over the Core i-series "Sandy Bridge" chips while delivering high performance.
Of course, Intel plans to offer Haswell-based products with power consumption as low as 10W to enable lighter ultrabooks, convertible and tablet designs.