Lackluster demand may have prompted Microsoft to significantly slash orders of its Surface RT tablet, but that hasn't stopped Redmond from planning additional mobile hardware.
Indeed, according to insider MS_nerd (via BGR), the Washington-based company could be preparing at least three Surface tablets that may very well hit the market by the end of 2013.
The first tablet - apparently dubbed the Surface RT 2 - will boast a 8.6-inch display, along with a Qualcomm chipset instead of Nvidia's Tegra CPU powering the current Surface RT.
The second device, reportedly an 11.6-inch Surface Pro, could be equipped with a yet-to-be-released AMD Temash APU instead of the current Intel Core i5 processor. Finally, Microsoft is said to be eyeing the design of a Surface Book with a with a 14.6-inch display and Intel 22-nanometer Haswell chip.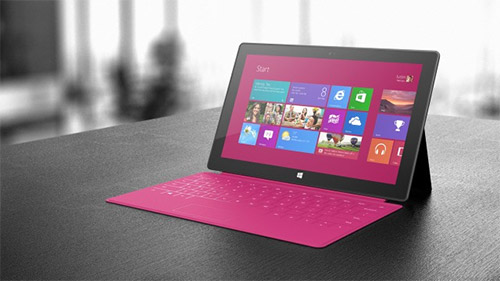 Interestingly, Redmond has thus far declined to provide precise sales data for the Surface RT, with Steve Ballmer going on record as saying reception to the tablet has been "fantastic." Nevertheless, other tablet manufacturers, including Asus, Samsung and Dell, are apparently reporting "weak" consumer demand.
"Pricing the Surface Pro higher than practically any other equivalent product out there was a puzzling move. Microsoft needs to be doing everything they can to project an image of success for Surface and Windows 8," analyst Patrick Moorhead recently told PCWorld.
"The $899 starting price for Surface Pro will significantly limit penetration. Microsoft needs a starting configuration at $699 to drive significant volume and then have a step-up configuration to $899."
Therese Poletti of MarketWatch expressed similar sentiments.
"Microsoft's first iteration of its Surface tablet was far cheaper in price, but based on chips using ARM Holdings designs, so it's not as compatible with legacy Windows apps as the Intel-based Surface," wrote Poletti.
"Of course it is very early in Microsoft's Surface effort, and the more anticipated Intel-based version won't be out until next year. But given the high prices set for the next Surface, the tablet's future could be spent gathering dust on Microsoft's new store shelves. Consumers will keep bringing Apple's iPad, which now starts at $329 for an iPad mini, to get some of their work done."