Microsoft appears to be working on its own version of Project Glass. A patent application filed at the USPTO shows a pair of glasses with an augmented reality display covering part of the field of view, though instead of being a general purpose item as Google's Glass aims to be, Microsoft's version focusses on only one specific purpose: live events.
The filing, according to Unwired View, shows the glasses as adding text and graphic overlays to objects seen by the user. This could be used in the context of a baseball game, where details of individual player statistics could appear near them as they perform various noteworthy actions. The fact that the user would be in one specific location and stationary would make such a system easier and cheaper to construct, potentially making the device a middle-ground AR system to gradually introduce the general public to the concept.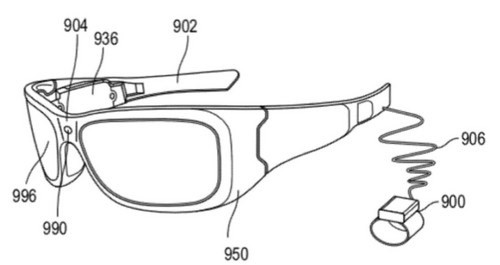 Microsoft has had plans for an AR system for a while now. Back in June, leaked documents showing Microsoft's planned future for the Xbox brand has Wi-Fi AR glasses working with a local console as soon as 2014, while a cell-based 4G version of what is called "Fortaleza Glasses" would be used by 2015.