Piledriver, the architecture behind AMD's Trinity accelerated processing units (APUs) and Vishera FX central processing units (CPUs), has been mostly well-received, even if the FX line didn't stir too much awe.
Perhaps this is why Advanced Micro Devices has decided to keep using Piledriver even for the series of APUs that will follow Trinity.
A new roadmap slide that surfaced in DonanimHaber shows that Richland APUs will use Piledriver modules.
In other words, while some improvements to HSA (heterogeneous system architecture), and better clock speeds for the CPU cores and GPU, will be implemented, there won't actually be any big differences between the current generation of chips and the next.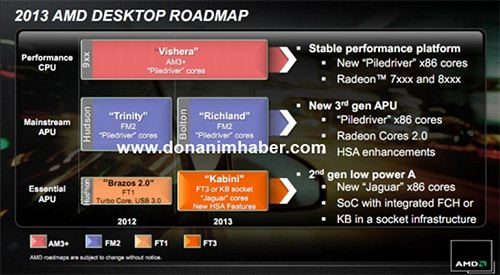 At least, the CPU socket will be unchanged (FM2). That way we can be sure that a change of motherboards won't be required.