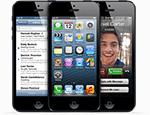 Shipments of components for iPhone 5 from the supply chain will be ramped up to 13-14 million units in November and to 16-18 million units in December, bringing total shipments of iPhone 5 in the fourth quarter of 2012 to 40 million, according to sources in Apple's supply chain.
Shipments of iPhone 5 were affected in August and September due to low yield rates at component suppliers, raising concerns that the supply chain may not be able to ship up to 40 million iPhones in the fourth quarter as expected, indicated the sources.
However, demand for ICs for iPhone 5 has been boosted to an amount equivalent to 13-14 million iPhone 5s recently thanks to improving yield rates at component suppliers, indicated the sources, adding that IC demand is expected grow another 20% in December.
Sales of the iPhone 5 will gain momentum in the fourth quarter 2012 as well as in the first quarter of 2013, the sources contended.