MSI launches its all new 21.5 inch entertainment model, the Wind Top AE2282/AE2282G, that attempts to take the inspiration from its 22-inch All-in-One PC while preserving its excellent design as well as the classical models.
MSI is looking forward to developing the new generation AIO to be the standard, and leading the edge of trends that makes innovative technology. The AE2282/AE2282G uses a Full HD display along with an industry-leading LED backlight technology, which saves about 30% more power than traditional CCFL panels. With MSI exclusive power-saving technology, it can save money for users on the infression age, as well as reach the concept of green PC positively.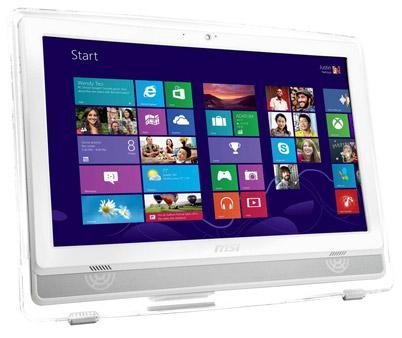 The Wind Top AE2282/AE2282G comes with Windows 8 pre-installed. The Windows 8 breaks the architecture by past Windows operating systems; whereas, it applies UI interface that based on the concept of Metro, which will allow users to interact with Windows 8 more instinctive and work more flexible even smoother. By Windows 8, the AE2282/AE2282G could be the fantasy platform for the new mobile generation, connecting several kinds of device together, such as the PCs, mobile phones, and tablet. Under the same Windows 8 environment, people can seamlessly and effortlessly share data, pictures, and files without time and location limitation. The ergonomic design allows you to operate the device with ease and enjoy joy endlessly.
The Wind Top AE2282/AE2282G are powered by 3rd Generation Intel Core processors manufactured with the latest 22 nm process. These new processors effectively enhance performance with reduced power consumption, and their graphics processing units are integrated into the CPUs on the same chips, which provides higher graphics capabilities, smoother high-definition video playback, as well as greater gaming experiences.