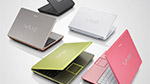 We've spoken about the overall insufficiency in touch panel and material supply, but we didn't go into detail about the notebook market.
Many touchscreen notebooks got introduced over the past couple of weeks by Acer, ASUS, Sony and HP, among others.
Unfortunately, due to touch panel makers prioritizing smartphone and tablet orders, they do not have many left for laptops. In fact, even tablet makers are having trouble getting enough.
This is why touch panel supply for Windows 8 notebooks is 70% below demand at the moment. The lack of experience on the manufacturers' part in producing medium-to-large size touchscreens isn't helping matters.
The same goes for how all notebook makers placed orders at the same time in September and October.
One can only wonder if inventories will rise to desired levels in time, especially since demand is bound to go up over the next couple of quarters as well.