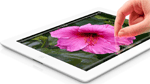 The iPad's "mini me" has started production as Apple attempts to ward off competition with a smaller, cheaper tablet.
Apple's Asian component suppliers have kick-started mass production of the new iPad, nicknamed iPad Mini. The new tablet will measure 7.85 inches diagonally, putting it more in line with the other 7-inch tablets crowding the market.
Apple's iPad is the king of tablets and eats up a majority of the tablet market share. However, the 9.7-inch display and a load of features like 4G LTE connectivity and a Retina display with 2048x1536 resolution makes the iPad a tad expensive. In fact, the new iPad starts at $499.
Cheaper and credible alternatives to the iPad have emerged recently, offering the iPad a bit of competition. Amazon's Kindle Fire, which is a 7-inch tablet for $199 that was released last November, was the first to take a chunk of the iPad's market share last holiday season.
Other tech companies have since followed suit, offering smaller and cheaper alternatives. Google recently launched its 7-inch Nexus 7 tablet for $199, which is not only smaller and cheaper than the iPad, but also has features more comparable to the iPads'. Amazon also kicked its Kindle Fire line up a notch by launching the Kindle Fire HD models. The Kindle Fire HD line offers a refreshed 7-inch model for $199, an 8.9-inch model for $299, and a 4G LTE model for $499. What's more is that Amazon is offering a generous data package for only $49.99 per year.
As if that wasn't enough, Barnes & Noble recently announced its updated Nook tablets, Nook HD and HD+.
Clearly, Apple needs to jump into this market if it wants to hold onto its No.1 spot. Not many details are known about the iPad Mini, such as price, but it has been confirmed that it won't have the Retina display that the new iPad has. This was likely an eliminated feature in order to keep the iPad Mini competitively priced.