Toshiba unveiled a series of new models in its Canvio line of consumer storage products. These include the new Canvio Slim line of compact portable HDDs, updated Canvio Desk series external HDD and updated Canvio portable HDDs.
Designed to compliment Ultrabooks, the USB 3.0 Canvio Slim series offers a 500GB capacity and will be abvailable in black and white versions. The HDD measure just 75 x 107 x 9 mm (WxDxH) and weigh 115 g. The Canvio Slim is slated for late-October for about 12,000 Yen ($154).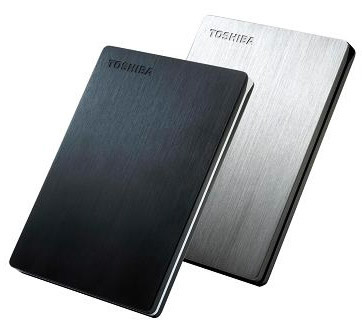 Toshiba Canvio Slim
Toshiba's Canvio Desk line is updated to include a 2 TB (16,000 Yen - $205) variant along with the 1 TB (13,000 Yen - $167) variant. The Canvio Desk has a 2.5-inch HDD built-in , an external power supply, and uses USB 3.0 connection. It measures 167 x 129 x 42 mm (WxHxD). These are slated for late-November.
Toshiba Canvio Desk
Toshiba also updated its mainline Canvio series of USB-powered portable hard drives to include 1.5 TB, 1 TB, 750 GB, and 500 GB models. The 1.5 TB variant is 3 mm thicker than the others, which measure 119 x 79 x 13.5 mm (WxHxD). The new Canvio drives will be released in late-October.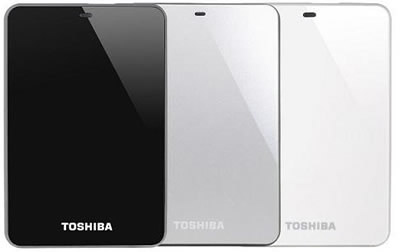 Toshiba Canvio
All the new models are compatible with both Windows and Mac OS X.