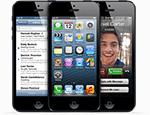 It looks as though Apple has another his on its hands with the iPhone 5. The company announced last week that it secured 2 million sales for the iPhone 5 within the first 24 hours of pre-order availability. Today, Apple is reporting that it sold over 5 million iPhone 5s during its launch weekend.
"Demand for iPhone 5 has been incredible and we are working hard to get an iPhone 5 into the hands of every customer who wants one as quickly as possible," said Apple CEO Tim Cook. "While we have sold out of our initial supply, stores continue to receive iPhone 5 shipments regularly and customers can continue to order online and receive an estimated delivery date. We appreciate everyone's patience and are working hard to build enough iPhone 5s for everyone.
The 5 million mark surpasses the record set by the iPhone 4S last year, which recorded launch weekend sales of over 4 million units.
The iPhone 5 was first made available in the United States, Australia, Canada, France, Germany, Hong Kong, Japan, Singapore and the United Kingdom. Sales will extend to 22 additional countries on Sept. 28 and will surpass 100 countries by the end of 2012.
Apple also announced that iOS 6 is now installed on over 100 million mobile devices.