A Tizen-powered variant of Samsung's popular Galaxy S III smartphone has apparently been granted Wi-Fi certification. The certification was spotted by Twitter user @musamappa, who posted a link to a document describing the S III variant. Tizen is a scalable mobile operating system developed by Samsung in a partnership with Intel.
The Wi-Fi certificate, granted on September 13, describes a device with a model number typically associated with Samsung's Galaxy S III. The model number also includes the word Tizen at the end, signifying that it runs that operating system instead of Android, which is the OS that typically ships with the Galaxy S III. Samsung has not made any announcements regarding Tizen-powered devices.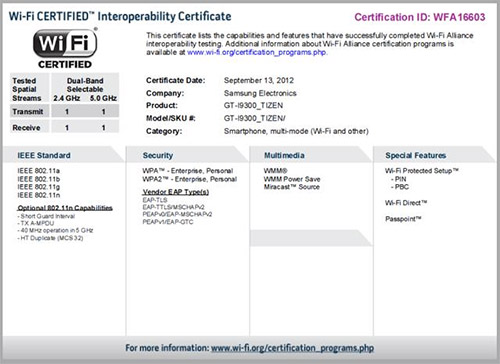 An S III variant running Tizen could give the South Korean tech giant a much-needed alternative to Google's Android operating system, which has been the target of a series of legal actions brought by Apple. Apple alleges that Android infringes heavily on Apple's intellectual property rights, and the company has filed suit against Android phone manufacturers around the world.
While Samsung has made no announcements regarding a Tizen-powered device, such a device would not be entirely unexpected. The CEO of Verizon recently opined that the electronics giant could prove quite disruptive to the larger technology market should it decide to roll out devices on its own OS.