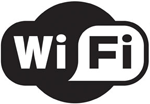 A new industry standard for video streaming is set to directly compete with Apple's AirPlay for dominance of the TV. Industry standards group the Wi-Fi Alliance has started a certification program for the Miracast standard, which will allow compatible devices to display video, images and applications instantly, regardless of brand.
Miracast connections are formed using Wi-Fi, and does not require an existing wireless network for it to function. An ad-hoc network can be created between devices, which Miracast then uses to negotiate amongst connected systems to work out the best possible resolution and audio that can be streamed. Copy protection with HDCP is also supported, with WPA2 being automatically enabled to keep the stream private.
Hardware from Broadcom, Realtek, and Marvell among others have been designated Miracast compatible, as has all Intel WiDi devices. The first consumer products certified since testing has been opened to vendors include the Samsung Echo-P Series TV and the Samsung Galaxy S III.
Brian O'Rourke, an analyst for IHS iSuppli Research, calls Miracast "a big step forward in market migration" and suggests that by 2016, the number of shipped devices compatible with the Miracast standard will exceed 1.5 billion.