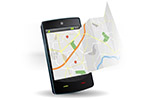 Nokia, Samsung Electronics, Sony and Qualcomm have formed the In-Location Alliance, which will work to improve the accuracy of indoor positioning, the companies said on Thursday.
The alliance was launched today with the goal of driving the development of indoor positioning. It will be working together on the promotion of a new standard-based short-range wireless technology that will make it possible to locate objects or positions indoors with extremely high accuracy using mobile devices. The Indoor Alliance?s main task is working toward the adoption of interoperable indoor positioning solutions and technologies. The indoor positioning system (IPS) technology will primarily be based on enhanced Bluetooth low-energy and Wi-Fi standards.
As a founding member of the alliance, Nokia will promote and suport its High Accuracy Indoor Positioning (HAIP) Solution, using a modified new generation, low energy feature of the Bluetooth 4.0 specification, that allows for an accuracy of one metre. The technology can also be extended to an accuracy of 20cm with additional changes.
The modification to the standards-based Bluetooth Low Energy has been developed and prototyped by Nokia, and the changes are being formalised by Bluetooth Special Interest Group body.
The indoor location of a component in a position or on an object can be calculated by HAIP antenna elements installed in the ceiling or the area from the reception of the wireless signal that is transmitted by the component. The components can be installed in a mobile device, or they can be made as separate tags, which can be attached to any asset.
The alliance looks at how and where an indoor positioning solution, like HAIP, might be used. One of the possible new applications is the ability to receive special offers, coupons and advertisements to your phone when you go past a shop. Other use cases in large factories are also being explored.
The indoor positioning technology could also help you find objects in your home, guide you towards your departure gate at an airport, track the players on a football match or work as a safety and monitoring device for an elderly person at home alone.