ARM this week made good on the promises it made late last year, launching a GPU trio based on its Mali-T6xx "Midgard" architecture.
The mobile graphics market is currently packed with designs by Qualcomm (makers of Adreno), NVIDIA (makers of mobile GeForce derivatives), and Imagination Technologies Group Plc.'s (LON:IMG) (makers of PowerVR). But ARM, whose licensed intellectual property (IP) CPU cores and titular instruction set dominates the mobile market, broke onto the smartphone graphics market in a big way, thanks to inclusion in top Android manufacturer Samsung handsets.
With its latest GPU trio, ARM looks to expand on that promising position.
The T624 can have up to four cores, while the T628 carries up to eight. Both chips are primarily aimed at the smart TV and smartphone market. The T678 is focused on the tablet space, packing up to eight cores.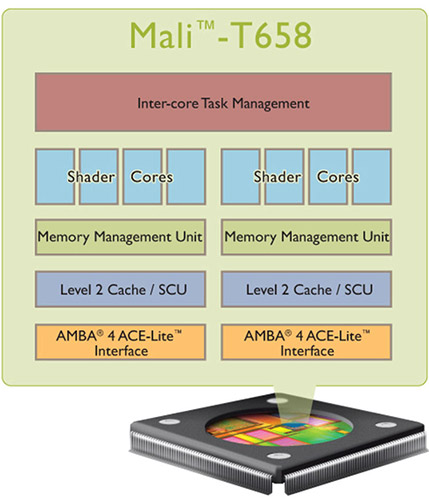 All the chips feature support for the latest standards including OpenGL ES 3.0 and DirectX 11. The latter feature is important, as it will allow ARM's GPU cores to be included on the system-on-a-chip (SoC) brains of upcoming Windows 8 tablet designs.
Samsung's Taehoon Kim a VP in his company's chipmaking division praised the new CPU, commenting, "An advanced visual computing experience is an expectation that most consumers have when they purchase a new smartphone, tablet or smart-TV. It is therefore important that Samsung works with partners, such as ARM, to achieve technology leadership in areas that include advanced graphics and GPU compute. The next generation of the ARM Mali-T600 series GPU is an important introduction, and will help Samsung Exynos processor to address consumer demands."
The new GPUs all feature a special proprietary multi-format texture compression technology called Adaptive Scalable Texture Compression (ASTC). ARM says the technology will save battery life while delivering better graphics, without any programming hassle.