Today even budget personal computer (PC) solid state drives (SSDs) offer read speeds of up to 230 MB/s and write speeds of up to 190 MB/s. Top-of-the-line models can record speeds of up to 492MB/sec for sequential reads and 518MB/sec for sequential writes.
But the NAND memory used in tablets and smartphones has been stuck in the slow lane, largely due to power and space (form factor) constraints. That's why the new Samsung Embedded Multimedia Card (eMMC) Pro Class 1500 is an exciting development, despite speeds that would seem pedestrian by PC standards.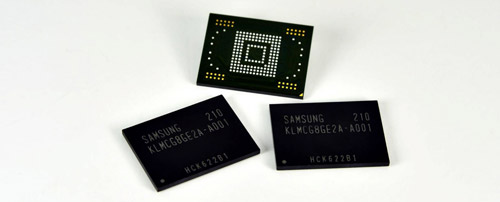 Samsung is building the new NAND memory on its proprietary 20 nm process node. It just began "volume production" of 16-, 32- and 64-gigabyte (GB) density modules for "smartphones, tablets, and other mobile devices."
The eMMC modules off sequential reads of 140 MB/s and sequential writes of up to 50 MB/s. For random reads/writes it can handle 3500/1500 IOPS (inputs and outputs per second), which Samsung claims is four times as fast as previous solutions.
The modules use 2, 4, and 8 8-gigabyte dies stacked on top of each other. The package is extremely compact -- even the 8-die package is only 1.2 mm thick and weighs a mere 0.6 grams.
Samsung fills in some technical details, writing:
Samsung eMMC Pro Class 1500 is the first to support the latest JEDEC e-MMC v4.5 specification that standardizes more features to improve performance, efficiency, security, and reliability such as: a SDR-200 Interface (200MHz, 200MB/s Max Bandwidth), cache handling, dynamic handling, file sanitizing, and power-off notification.
The new NAND are the first major refresh to Samsung's storage line since it introduced "64GB eMMC in January of 2010 using 30nm-class 32Gb NAND flash components."
Ironically some of these metaphorically hot new chips may wind up in arch-rival Apple new iPhones and iPads, despite the fact that Apple is trying to sue Samsung's popular, industry-leading smartphones off the market.
In a recent interview Samsung product chief Kevin Packingham bemoaned this relationship, commenting, "[At] times... I'm absolutely appalled that we sell what I consider to be the most innovative, most secret parts... of our products to... Apple [or anybody]."
But he said that the chip-making unit tells him, "Look, that's none of your business. You go make your mobile phones and if you'd like to use our components, that'd be great."