After its debut in Apple's Macbook Pro systems, Intel is bringing the Thunderbolt transmission interface to the PC with the release of its second-generation Thunderbolt controllers, DSL3310 and DSL3510, codenamed "Cactus Ridge."
The latest Thunderbolt controllers are smaller in size compared to the previous one (82524EF - Light Ridge,) and will come in versions with two or one ports. Intel will also release the DSL2210 controller (Port Ridge) later this year. This one is very small for easy inegration in devices such as 2.5-inch portable HDD / SSDs will feature a single port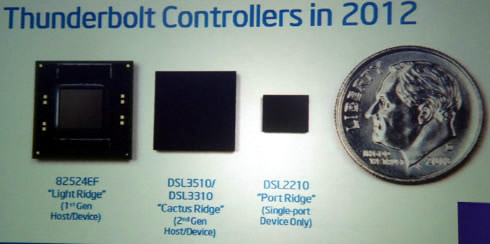 At Computex in Taipei, Intel showcased motherboards from ASUS, Gigabyte, and Foxconn and laptops from ASUS, ASRock, Gigabyte, Lenovo, and others with an integrated Thunderbolt controller.
The Thunderbolt is using the PCI Express protocol and the DisplayPort protocol to transfer data and video through a single cable. The maximum theoretical transfer rate is 10 Gbps.
Thunderbolt uses electrical or optical cables with a maximum length of 3 meters) and 65.6 feet (20 meters,) respectively. The cablesare Using a mini DisplayPort connector and can be directly plugged to a video monitor with a mini DP connector or to a Thunderbolt-enabled external storage device. No additional drivers need to be installed.
Intel has been making efforts to lower the price of the Thunderbolt cables. The company expects cable vendors such as Lintes and Sumitomo to offer cheaper cables in the second quarter of 2012, including optical cables.