Japanese giant company NEC is a well-known traditional manufacturer of high-quality monitors targeted at imaging professionals. The company has just announced the NEC SpectraView 241 professional 24" monitor.
The NEC SpectraView 241 comes with a 10-Bit P- IPS panel.
P-IPS is short for Professional In-Plane Switching and this is a panel technology developed by Hitachi back in 1996 to solve the two main limitations of the popular and affordable TN-matrices: small viewing angles and low-quality color reproduction.
While TN-panels only display partial true color, the panels built in IPS technology will display consistent and accurate color from all viewing angles.
At the time, IPS was touted to bring only image improvements with no speed disadvantages, but today the NEC's SpectraView 241 response time of 16 milliseconds might be viewed as huge when compared with 1 ms gaming monitors.
The thing is that the SpercraView 241 is targeted for image professionals that mostly work in 2D applications, may that be video or photo processing.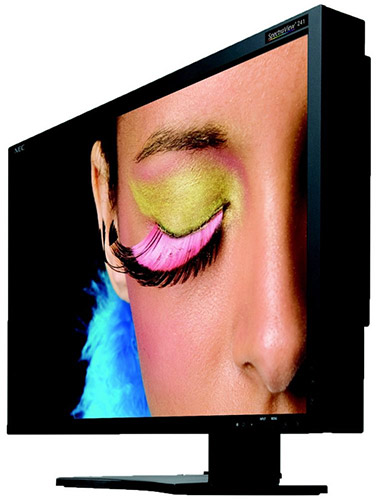 On the connectivity side, this very expensive monitor is rather poor. It comes with dual DVI, a DisplayPort and a VGA connector along with an integrated USB hub, but it has no HDMI and the USB hub is likely a USB 2.0 version.
We would have liked to have USB 3.0 on a €1,500 monitor.
Yes, the professional NEC SpectraView 241 24" monitor is slated at €1,500 for the European market and will start shipping in June this year.
That about $1,900 if the American professional would like one.
The NEC SpectraView 241 professional 24" monitor is backed by a 3-year warranty and comes with a DVI-D to DVI-D cable and a DisplayPort cable also.