AMD has been making all the right moves lately, both with CPU and GPU. Its Ryzen processors offer amazing performance without breaking the bank, while the RX 500 series of graphics cards are solid performers for both gaming and the increasingly popular crypto mining.
What has PC builders truly excited, however, is the Ryzen Threadripper processors. These chips are multi-core monsters. Heck, they are even physically larger than most processors. Seriously, folks, these things are beasts; the top model has an impressive 32 threads! Well, the wait is now over -- today, AMD officially launches Threadripper. And yeah, if you are planning to build a new PC, you want it.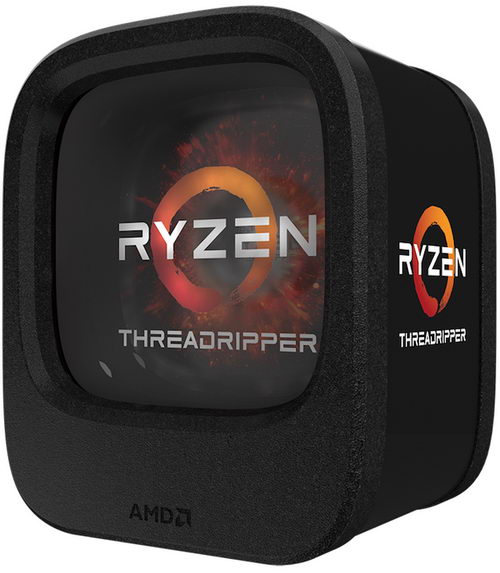 "Whether rendering complex 3D scenes, streaming high-quality video game content, or encoding, compiling, and encrypting files in parallel of each3other, the world-class performance per clock and efficiency of AMD's "Zen" architecture means users can do so without sacrificing efficiency or performance. Ryzen Threadripper 1950X and 1920X processors include 40MB and 38MB of processor cache, respectively, and all Ryzen Threadripper processors [...] feature the same Quad-Channel DDR4 memory bandwidth, 64 lanes of PCIe 3.0 connectivity, and processor-direct SATA/NVMe/USB connectivity," says AMD.
The company further says, "In addition, every Ryzen Threadripper processor is multiplier-unlocked to provide unlimited user flexibility. A full ecosystem of SocketTR4 X399 platforms, with native USB 3.1 Gen2 10GB/s connectivity, provide support for all Ryzen Threadripper processors at launch, with motherboards coming from top manufacturers like ASRock, ASUS, Gigabyte, and MSI."
AMD shares pricing, availability, and specs below. As you can see, the lower-end model can't be had until later in the month.
Ready to buy your own AMD Threadripper for a new build? They can be had on Newegg immediately here. While they are in stock now, I don't know how long that will last. I wouldn't be surprised if they sell out relatively fast, so waiting is not suggested.
While you might be tempted to save $200 by opting for the 12-core 1920X, I would recommend going for the 1950X. I mean, look, if you are going to spend $800, you might as well spend $1,000 -- if you can afford it. After all, if the PC will last you many years, cost averaging the extra money over several years makes it negligible. You might regret not splurging later on.