Samsung is expected to make some design changes to the Galaxy S series with the latest Galaxy S8 smartphone which is supposedly set to be released on April 18. Some renders from the past few weeks have illustrated said changes, and it seems that the first image of the actual phone has leaked online.
The picture surfaced at Slashleaks and reveals the Galaxy S8 in a metallic gold color and with a dual-edge curved display. The leaked image shows all the rumored changes, including the absence of a physical home button and less bezel on the top and bottom of the phone.
Just like previous renders, the image reveals that the Samsung logo was moved to the bottom of the front panel, exactly where the physical home button was found on previous models. Apparently, the image shows the Settings menu in Chinese language and one detail casts some doubt regarding the picture's authenticity.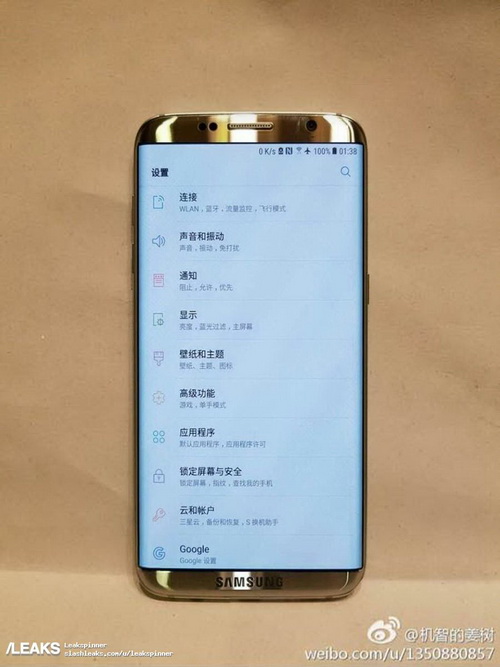 Samsung is believed to include software navigation keys with 3D Touch-like functionality on the new Galaxy S8, but the buttons aren't visible in the image. Either the picture shows a photoshopped Galaxy S7 edge or Samsung will include a feature to hide software buttons when they're not in use, thus allowing for more full-screen space.
Taking things a bit further, the new Grace UX could come with a feature for switching back and forth using gestures. However, take this information with a grain of salt, as the device might not actually be the Galaxy S8 and such features in the Grace UX might not even happen. Still, many rumored details are included in the image, so even if it's not the real Galaxy S8, it does offer a clear image of what the product will eventually look like.
There's no picture with the back of the phone, where Samsung is expected to incorporate a dual-camera setup and a fingerprint scanner. I guess we'll just have to wait until the unveiling in late March or early April to see official images of the phone.