HMD Global, the company that will launch Nokia-branded smartphones in the coming years, has major plans for 2017. Although we reported that the Finnish company might launch no less than 5 smartphones this year, it looks like the number is slightly higher.
However, the previous report that indicated HMD would release 5 Nokia-branded smartphones in Q2-Q3 2017 still stands because the new information refers to the whole year. So, while HMD may launch 4 devices in two quarters, by the end of the year there will be 6 or 7 Nokia-branded phones available on the market.
As NPU points out, these new details have appeared in an official presentation slide that's been leaked via a Malaysian retailer. The slide also mentions that HMD will continue to innovate and launch series of attractive Nokia feature phones, as well as maintain the market share.
The 6-7 Nokia-branded smartphones that HMD plans to release on the market by the end of 2017 will belong to all tiers, including entry, mid and high-end.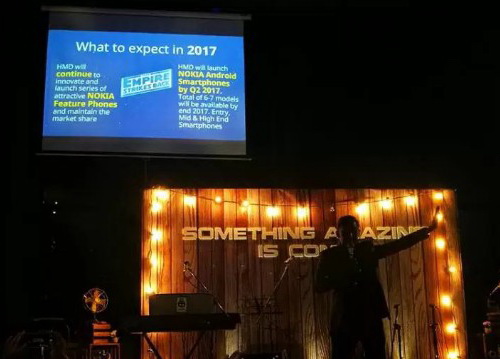 HMD will not introduce any new smartphones at CES 2017, which is taking place between January 5 and January 8, in Las Vegas, United States.
The good news is the Finnish company has already confirmed the first Nokia-branded phones in a long time will be unveiled next month at MWC (Mobile World Congress) trade fair.
Among the phones that we expect HMD to announce in late February, there's a long-time rumored Nokia D1C (or Nokia D1) and the more recent one, Nokia E1. The latter is likely to be an entry-level device, while the former will be a mid-range smartphone that will be available in two variations.
A high-end Nokia-branded smartphone might be introduced later on, but we don't rule out the possibility of HMD revealing one next month as well.