Battery fires prompted Samsung to launch a global recall for its newly-released Galaxy Note 7 flagship, but it turns out that even replacement units are affected by similar problems. After a Note 7 caught fire on a plane on Wednesday, a replacement unit has reportedly exploded in Taiwan, even though it wasn't charging.
Local media is reporting that a woman called "Lai" was walking her dog in the park, with the Note 7 in her back pocket, when she heard an explosion and felt heat coming from the phone. She immediately pulled out the phone and threw it on the ground, only to discover that the Note caught fire for no clear reason.
According to preliminary info, this was a "safe" Samsung Galaxy Note 7 that the woman received on September 27, after she brought in her original phone purchased in August. Photos that she provided also confirm that this was a replacement unit - notice the black square on the box, as this is how Samsung marks safe units to distinguish them from models that are being recalled.
Samsung Taiwan says it's planning to investigate this claim, but affirms that for the moment, the company cannot offer a confirmation that this was indeed a replacement Note 7. Furthermore, the firm couldn't confirm that faulty batteries were the cause of the fire, although this is very likely to be the case given the fact that the woman explained that the phone was getting hot before eventually catching fire.
And while Samsung's local subsidiary remains rather tight-lipped for the time being, not the same thing can be said about the Taiwan Consumers Foundation, which has already requested the company to stop selling the Note 7 in the country amid reports of exploding units. The organization compared selling the Samsung Galaxy Note 7 to "sending bombs to consumers," pointing out that there are cases when phones that catch fire can cause significant damages and serious injuries.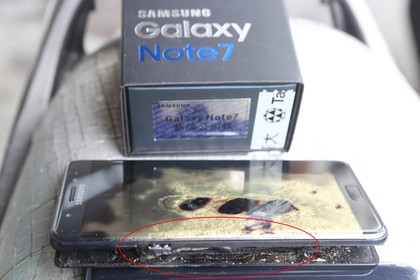 More and more organizations seem to be pushing Samsung to stop selling the Note 7 and there are reports that a number of carriers are also planning to suspend sales of the device.
Furthermore, it's been reported that Royal Mail is no longer shipping the Note 7 in the United Kingdom and some other couriers are planning to do the same amid reports that the phone catches fire all of a sudden.
Consumer organizations in the United States press Samsung for a second recall that would involve "safe" units too, and although it's believed that the company is already considering such an option, a decision in this regard is yet to be made.