It may have been one of the worst kept secrets in tech launches, but today Google officially took the wraps off its Pixel and Pixel XL smartphones. In terms of hardware it could be argued that there is nothing too spectacular here, but even if you ignore the (still very impressive) hardware side of things there are two features that directly take on Apple: Google Assistant to compete with Siri, and unlimited full-resolution photo backup. Unlike Google's previous Nexus range, the Pixel handsets carry no other branding -- these are the first phones designed and built inside and out by Google and Google alone. We already knew just about everything about the two handsets -- which neatly compete with the iPhone 7 and iPhone 7 Plus, but now everything, and more, has been confirmed.
As you would expect from a Google-produced phone, the Pixel duo both run the very latest version of Nougat -- Android 7.1. There are two sizes available, with the Pixel boasting a 5-inch, 1080p screen, and the Pixel XL a 5.5-inch, 1440p display. And the screen is the only real difference between the two phones, apart from the larger battery in the larger model.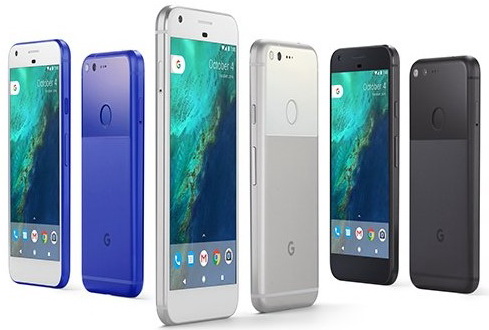 There is a very Apple-like approach to Pixel. Google says "we obsessed over every detail, from the industrial design to the user experience". It's straight from the Apple script; all that's missing is a reference to how 'beautiful' the hardware or user experience is.
One thing Google is very keen to promote with Pixel and Pixel XL is the main camera, which is a 12.3MP affair with an f/2.0 aperture and 1.55 micron pixels. The company says:
The Pixel camera is not only the best smartphone camera we've ever made, it's the highest rated smartphone camera anyone has ever made. Our DxOMark Mobile score of 89 is a great example of what's possible when great hardware meets great software. Pixel puts cutting-edge computational photography in an ultra-fast and easy-to-use camera.
Google has shared a video which is supposed to highlight the photographic capabilities of the Pixels, but it's not really much of a showcase:
Battery life is a key selling-point for any phone, and Google says that both Pixel models deliver a full day's usage. The 3490mAh battery in the Pixel XL should offer 32 hours of talk time, while the smaller Pixel's 2770mAh battery boasts 26 hours of talk time. There's fast charging support on both models, with just 15 minutes plugged into power yielding seven hours of usage.
Both models also feature a rear-mounted fingerprint reader which is not only a security tool, but also doubles as a something of a trackpad -- notifications can be swiped away using the sensor.
Pixel and Pixel XL will be available in 32 and 128GB models, with a choice of three colors -- Very Silver, Quite Black and Really Blue, with the latter option being US-only. The 32GB Pixel costs $649 or £599, while the 128GB model costs $749 or £699. The 32GB Pixel XL costs $769 or £719, and the 128GB model costs $869 or £819.
The phones can be bought directly from Google in the US and UK, while those in the US can also hit their nearest Best Buy, or take advantage of Google's exclusive arrangement with Verizon. In the UK, the phones are available through EE or Carphone Warehouse. Pre-orders start now!