One major criterion when searching for a new phone is certainly the operating system. While there are some options available on the market, two operating systems seem to dominate. Android and iOS take up most of the market share while little remains for Windows and BlackBerry OS.
However, Samsung envisioned a smartphone that could run two operating systems, Android and Windows, while iOS was left out of the equation for obvious reasons. Such an idea doesn't seem far-fetched, considering that Samsung has already had such an attempt in the previous years.
The South Korean giant officially introduced the dual-boot tablet Ativ Q back in 2013, and although it was a really interesting concept, the tablet has never made it to shelves. The tablet had the capacity to run both Android and Windows OS, but it seems that Samsung delayed the launch for several months, and then nothing more was heard of it.
Samsung doesn't seem to have abandoned the idea completely, as a newly surfaced patent application shows. GalaxyClub stumbled upon a Samsung patent application from May 2015, in which the company details a Galaxy smartphone running both Android and Windows.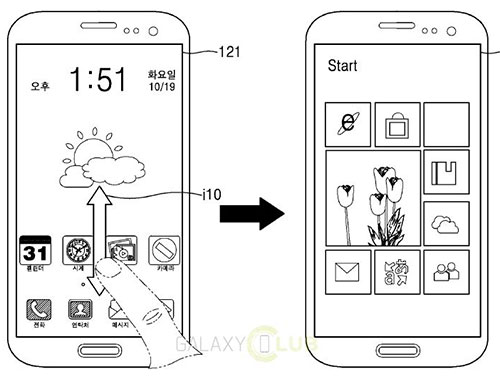 The images that come with the patent application show that users would be able to switch between OS in a similar fashion as they would switch between apps when using Samsung's Multi Window feature.
Sketches also show the concept of displaying both operating systems in two separate windows so that users would be able to work with multiple files and move them from one OS to the other. The window showing one operating system would have the capacity to be minimized in the TouchWiz UX, and the user would also be able to assign processor cores or limit memory usage per OS.
Needless to say that shared folders will be made available so that files could be accessed from both operating systems. The idea is certainly bold, and we've seen enough patent applications to know that some time will pass until such a device is introduced, provided that Samsung actually starts work on such a project.