Samsung is known to push its products towards innovation and work on offering consumers powerful devices, regardless of whether they're smartphones, smartwatches or VR headsets. The South Korean giant has recently filed a trademark application for Samsung Ahead, which is a headset similar to Google's Glass.
Rumors on Samsung trying to come up with a rival to Google Glass started surfacing quite a while ago. In 2014, the company was thought to be working on a similar product, with the headset believed to be unveiled during UFA 2014 in Berlin, alongside the Galaxy Note 4.
Its name was rumored to be Gear Glass, and the device was said to be an ear and eyepiece that connects to smartphones via Bluetooth. Then, word was that the Gear Glass would run Tizen OS, but it seems that Samsung never got around to releasing it.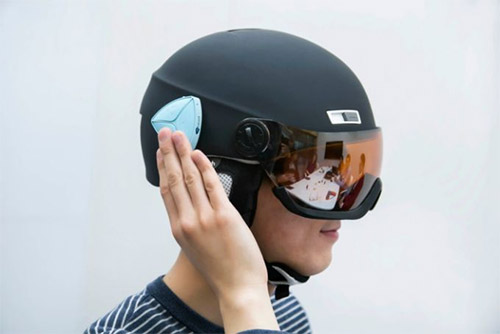 More information has recently surfaced and revealed that Samsung has filed a trademark application for a Google Glass rival, the Samsung Ahead, according to Liliputting. Its patent application includes a logo and describes the device as a wearable computer in the shape of a helmet.
The post also shows that the device will run an operating system for wearable digital electronic devices, and it will boast an electronic display module, MP3 features, and much more.
Ahead will use oscillators to create a surround sound effect without having to block out background noise. It will also come with two microphones and will allow users to change music tracks, answer calls with the Push to Talk version or place calls. It will come in multiple colors and will have some buttons for controlling the volume.
The patent application doesn't show whether and when the device will hit the market or any other details regarding its specs and performance.