SLast year, Samsung filed a patent application for a foldable smartphone. Then, last week, the US Patent and Trademark Office published a patent application from Samsung, revealing that the South Korean company hasn't given up on the idea of creating a foldable handset, according to Patently Mobile. The patent was filed late last year, and there's absolutely no indication of whether and when Samsung will start production. Still, the South Korean company has been rumored to work on such a smartphone, under the 'Project Valley' codename for quite some time now.
The images reveal that the foldable design will allow the future Galaxy X device to fold, and they also reveal a hidden port connector bar. The phone will charge in the folded position, meaning that it can't be used while it is charging, which could be quite inconvenient.
The folded smartphone will support fingerprint sensor or an iris scanner, thus making the device a high-end one. Still, the sketch is half a year old, which means that Samsung might have even made some design changes.
The foldable design could allow Samsung to use larger displays on its phones, especially since the South Korean company has recently unveiled a prototype of a rollable OLED screen at the SID 2016 event in San Francisco.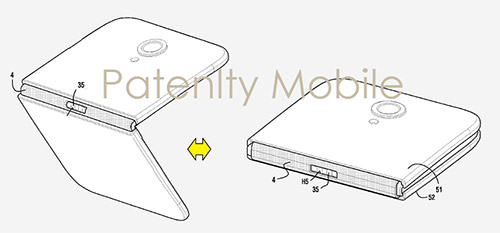 We previously reported that Samsung could launch the Galaxy X phone in 2017, and it would have a flexible 4K AMOLED display that folds in half. The image shows a device similar to the Samsung Galaxy S7, which folds in half. Even the camera bump is still there.
Recently, even Oppo showed off a prototype of its foldable phone with a display that also folds in half. The company's prototype had an unattractive design that seemed quite bulky, but the end result could be a bit slimmer. The handset appeared to be running Android OS, so it looks like the two smartphone manufacturers might be competing in this market segment soon enough.