Some of you might remember our previous report about Microsoft's upcoming flagship smartphone that is expected to be announced in Q2 2016.
Well, it looks like there's some truth to it since a mysterious high-end smartphone with model number RM-1162 has just popped up at GFXBench.
The Microsoft RM-1162 might be the flagship smartphone that the Redmond-based company plans to launch at the end of Q2 or sometime in Q3 2016.
As we reported to you last week, Microsoft's flagship smartphone will definitely pack a Quad HD (2560 x 1440 pixels) resolutions.
According to the listing at GFXBench, the RM-1162 boasts a larger 5.5-inch Quad HD display, so at least that piece of information seems to be accurate.
Furthermore, the smartphone is powered by a Qualcomm Snapdragon 820 processor, coupled with an Adreno 530 graphics processing unit. Although the benchmark only shows 1.5GB of RAM, this is clearly a mistake since the flagship can't come with less than 4GB RAM onboard.
When it comes to storage, the benchmark does not seem to be sure how to report it, so we have either 13 or 14GB of internal memory, but the handset is likely to pack 32GB of storage.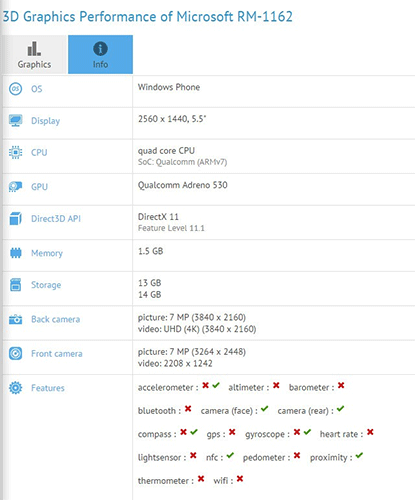 Another confusing detail mentioned in the benchmark is the rear-facing camera. There's no chance that the RM-1162 could include a 7-megapixel camera on the back that can capture 4K video.
We believe the Lumia smartphone will boast a 20-megapixel rear-facing camera and probably a secondary 8-megapixel camera in the front.
The rest of the phone's specs aren't mentioned and just about all sensors and connectivity options seem have been negatively reported except for the NFC (Near Field Communication) and proximity sensor.
Even if this benchmark can't really be used to assess Microsoft's plans for the coming months, it's an indication that the company has at least one high-end smartphone in the pipeline.