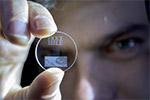 Storage seems to become a critical problem for each and every one of us as we're creating documents, videos, and photos that take up more space on our computers (most often as the result of significant improvements in quality), but the researchers at the University of Southampton can fix this once and for all.
They have created what they call a five-dimensional glass disc which not only has huge capacity, but can also keep all contents safe and secure for no less than 13.8 billion years. In the most extreme conditions, that is, which means they can be used to preserve the history of mankind too.
Basically, the whole innovation comes down to how the content is written on the disc. Previously, traditional discs, be they CDs or DVDs, stored data by writing the information on the surface of the glass, but what the researchers have managed to do is to actually write this data inside the glass.
As a result, using the nanostructures in glass, a small five-dimensional disc can store no more, no less than 360 terabytes of data and the researchers claim that it can do that for no less than 13.8 billion years. And if you're thinking that this is impressive, there's more.
The same researchers claim that such a disc can withstand the most extreme conditions, so for example, it can survive temperatures of up to 1,000 degrees Celsius. And if the surrounding temperature is 190 degrees Celsius, it has no problem keeping all data in perfect condition for nearly 14 billion years.
The researchers explain in detail how the glass discs work:
"The self-assembled nanostructures change the way light travels through glass, modifying polarisation of light that can then be read by combination of optical microscope and a polariser, similar to that found in Polaroid sunglasses. The data is recorded via self-assembled nanostructures created in fused quartz. The information encoding is realised in five dimensions: the size and orientation in addition to the three dimensional position of these nanostructures."
Before you ask, there's no mention of a price, but certainly, the potential here is huge, so researchers want to continue their work on this project. And, of course, they have already confirmed that they want to "commercialize this ground-breaking new technology."