Samsung Electronics announced today that it has begun mass producing the first 4-gigabyte (GB) DRAM package based on the second-generation High Bandwidth Memory (HBM2) interface, for use in high performance computing (HPC), graphics and network systems, as well as servers.
Samsung says its new 4GB HBM2 DRAM, which uses Samsung's 20-nanometer process technology and HBM chip design, is more than seven times faster than the current DRAM performance limit.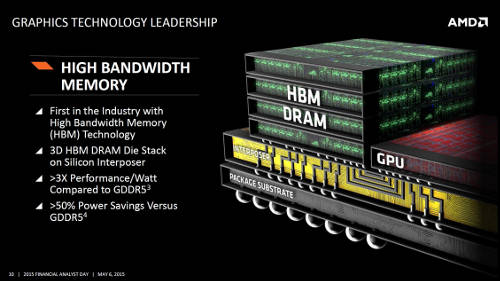 Samsung said the breakthrough was made possible by applying advanced packaging technology, known as TSV, which "punches" fine holes in chips and vertically connects their electrodes.
The 4GB HBM2 package is created by stacking a buffer die at the bottom and four 8-gigabit (Gb) core dies on top. These are then vertically interconnected by TSV holes and microbumps. A single 8Gb HBM2 die contains over 5,000 TSV holes, which is more than 36 times that of a 8Gb TSV DDR4 die, offering a dramatic improvement in data transmission performance compared to typical wire-bonding based packages.
Samsung's new DRAM package features 256GBps of bandwidth, which is double that of a HBM1 DRAM package. This is equivalent to a more than seven-fold increase over the 36GBps bandwidth of a 4Gb GDDR5 DRAM chip, which has the fastest data speed per pin (9Gbps) among currently manufactured DRAM chips. Samsung's 4GB HBM2 also enables power efficiency by doubling the bandwidth per watt over a 4Gb-GDDR5-based solution, and embeds ECC (error-correcting code) functionality to offer high reliability.
In addition, Samsung plans to produce an 8GB HBM2 DRAM package within this year. By specifying 8GB HBM2 DRAM in graphics cards, designers will be offered space savings of more than 95 percent, compared to using GDDR5 DRAM.
Samsung plans to steadily increase production volume of its HBM2 DRAM over the remainder of the year to meet anticipated growth in market demand for network systems and servers.