If the rumors are to be believed, the Samsung Galaxy S7 series of smartphones are expected to be launched next month. Now if you are more interested in the Edge variant of the smartphone, you will be interested to learn that thanks to a recent sighting on AnTuTu, alleged specs of the Galaxy S7 Edge may have been revealed.
According to the benchmarks, it reveals some surprising information about the phone. The rumors have suggested that the Galaxy S7 and Edge models will retain the same screen size as last year's model, which is set at 5.7-inches. However the benchmarks have suggested a display size of 5.1-inches, indicating that maybe the 5.7-inch model could be the Plus variant.
The benchmarks have also revealed that the handset's camera will be of the 12MP variety. This is in line with what we had heard previously, where instead of just bumping the phone's camera resolution, Samsung will instead improve the sensor and other features, making it take better photos despite the lower resolution.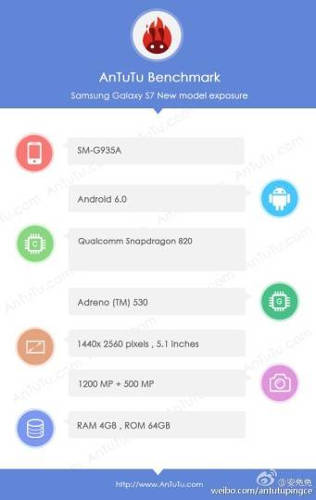 It has also been revealed that the phone will pack a Snapdragon 820 chipset, similar to what we've heard, and it will also be getting an upgrade to 4GB of RAM, a bump up 1GB from last year's model. It also appears to run on Android 6.0. Note that it is possible for benchmarks to be faked, not to mention it could simply be a prototype model and not the final specs, so until we hear otherwise, take it with a grain of salt for now.