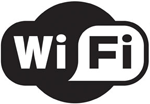 The Wi-Fi Alliance has released version 802.11ah of its Wi-Fi standard. Nicknamed HaLow for its low power consumption and ability to activate in the lower 900 MHz band, technology experts anticipate the new standard being integrated into IoT (Internet of Things) products.
While other 802.11 Wi-Fi standards commonly operate in bandwidths between 2.4GHz and 5GHz frequencies, the new HaLow standard was specifically created by Wi-Fi Alliance engineers to work in lower bands, offering lower power consumption while also boosting connectivity.
Because of these two features that the new HaLow standard successfully implements, 802.11ah is perfect for IoT devices that need Wi-Fi connectivity but don't have the technical capabilities to provide Wi-Fi components with the proper power supply they require.
Since IoT devices are generally limited when it comes to memory and processing capabilities, having a Wi-Fi component that doesn't add an extra level of complexity to the entire manufacturing and design process will help hardware makers in the long run.
On top of a smaller power consumption but a longer range, HaLow also ensures connectivity to other Wi-Fi certified devices, operating any of the Wi-Fi Alliance's standards.
The new 802.11ah HaLow is not a random Wi-Fi standard created to cover a gap in the Wi-Fi band, and the Wi-Fi Alliance specifically targeted the Internet of Things market.
"Wi-Fi HaLow is well suited to meet the unique needs of the Smart Home, Smart City, and industrial markets because of its ability to operate using very low power, penetrate through walls, and operate at significantly longer ranges than Wi-Fi today," said Edgar Figueroa, President and CEO of Wi-Fi Alliance.
"Wi-Fi HaLow expands the unmatched versatility of Wi-Fi to enable applications from small, battery-operated wearable devices to large-scale industrial facility deployments - and everything in between," Mr. Figueroa also added.
Now that the Wi-Fi alliance has fixed some of the Wi-Fi-related problems the IoT market had, maybe someone can deal with its long list of security issues.