At a Chelsea loft in New York City today, Qualcomm Technologies is showed off its new Qualcomm Snapdragon 820 processor for the first time as the company hopes to get some of its mobile mojo back.

Qualcomm says the new Snapdragon 820 has been designed around enriching visual quality and audio clarity, as well as developing more intuitive ways to interact with devices, to generate "immersive" experiences. In the process, Qualcomm Technologies also infused the Snapdragon 820 with fast performance, connectivity, strong security, and long battery life.

The Snapdragon 820 will be manufactured on (Samsung's) 14nm FinFET technology and includes:
X12 LTE modem
64-bit capable custom Kryo CPU
Adreno 530 GPU
Hexagon 680 DSP with Hexagon Vector eXtensions and a sensor processing "low power island"
14-bit Qualcomm Spectra ISP
Premiere features and capabilities leveraging the Qualcomm Zeroth platform, the company's first neural processing platform
Qualcomm Snapdragon Smart Protect for real-time, on-device machine learning for detection of zero-day malware threats, designed to deliver improved personal privacy and device security.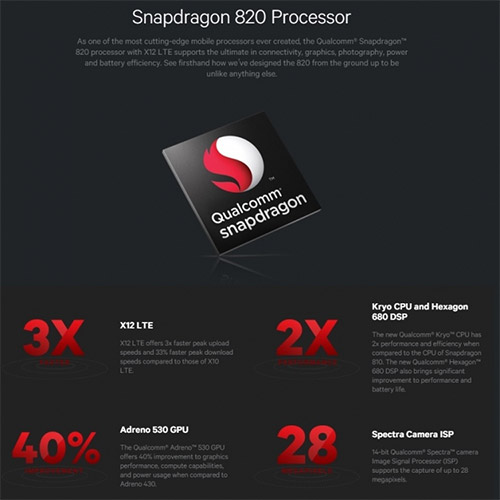 Qualcomm's Kyro processor is expected to provided twice as much computing power as the cores in the Snapdragon 810. Graphics from the Adreno 530 promise a 40% boost, as well.
The chip's 14-bit Qualcomm Spectra camera Image Signal Processor (ISP) supports the capture of up to 28 megapixels.
The integrated LTE modem supports Category 12 network speeds, theoretically pegged at 600 Mbps downloads and 150 Mbps uploads. Wi-Fi gets a boost too, supporting both 802.11ad and 802.11ac 2x2 MU MIMO standards. And Qualcomm is boasting that the Snapdragon 820 is the first commercial chip to work with LTE-U, a way to access both licensed -- think carrier supported -- and unlicensed wireless spectrum for mobile broadband.
In addition, the Snapdragon 820 adds Quick Charge 3.0 technology, which Qualcomm says is 38% more efficient than the current Quick Charge 2.0 charging found in many current, high-end devices.
After a hiccup in 2015, Qualcomm's Snapdragon 820 is the a key to the company's rebound. New smartphones powered by Snapdragon 820 will launch next year, including the Samsung galaxy S7.
On the other hand, Qualcomm faces competition from Samsung;s own Exynos SoC designs and Huawei's Kirin 950.
Qualcomm also showcased a handful of demos.
The first demo showcases the ability of the Snapdragon 820 to generate photorealistic video graphics when processing detailed imaging files using both the Qualcomm Adreno 530 GPU and the Qualcomm Kryo CPU. This also features the latest version of Unreal Engine (UE4) from Epic. This photorealistic application creates a realistic environment by implementing:
Screen space reflections (selectable)
Dynamic reflections that move relative to view angle
High Dynamic Range Rendering (HDRR)
Preservation of details that might be otherwise lost in normal rendering due to lower contrast
Realistic color and lighting
Simulation of the light adaptation of the eye
Temporal anti-aliasing