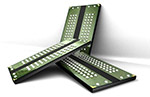 It looks like upcoming graphics cards will be equipped with GDDR5X memory, an extension of the well established SGRAM standard that will double the prefetch of GDRR5.
According to slides that appeared on the web originating from Micron, GDDR5X will deliver 64B data per memory access to the memory cells, doubling from the 32 byte/access offered by GDDR5.The 16n prefetch allows GDDR5X to explore new horizons for discrete memory I/O data rates. According to the slides, initial target is 10-12GBps, potentially reaching the 16 Gbps.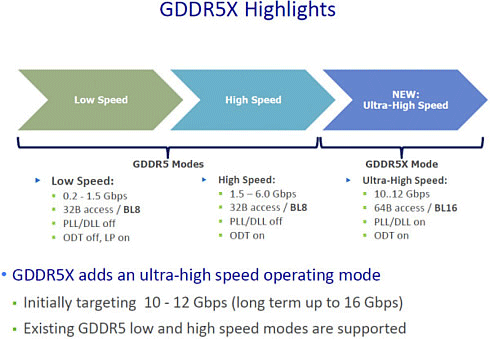 High-end graphics cards currently hover at say 400 GB/s. With GDDR5X that could increase to 800~1000 GB/sec and thus these are very significant improvements, actually they are competitive enough with HBM memory that AMD right now uses on their Fiji GPUs.
The improved GDDR5X is a simple upgrade to graphics card makers offering the "same interface signal pin count". It requires only "limited effort" to upgrade the GDDR5 memory controller on existing designs, and offers reduced power consumption.