Imagine looking out your window in suburbia to see small robots scurrying about, delivering your trash bins to the garbage truck. The Swedish company VOLVO is intent on developing robotic garbage collectors in their latest project nicknamed "ROAR."
ROAR stands for RObot-based Autonomous Refuse Handling. The system has two main parts: robots that can transport trash bins and also a high-tech garbage truck (more like a mothership) where the garbage man controls the robots on a dashboard.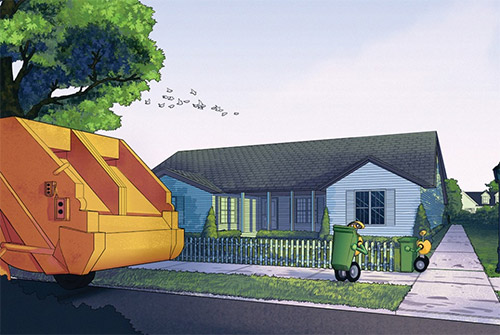 Volvo is partnering with three universities and a waste disposal company to work on the project. Mälardalens University will design the robot. Chalmers University, another Swedish school, will be making the computer programs and algorithms that will run on the robot. The control panel, interface and communication systems will be designed by Pennsylvania State University Transport Institute.
The vision for the project is to eliminate the need for humans to perform heavy-lifting during garbage collection by leaning on these future robotic sidekicks.
Waste disposal company Renova will integrate the technology. The forward-thinking company uses 37 trucks that run on natural gas while 16 garbage collection vehicles run on electric-hybrid motors. Aside from collecting waste, Renova also has a power plant that makes electricity by incinerating garbage.
Sweden is likely the most advanced country in the field of waste disposal. Only 1% of their waste ends up in landfills coupled with a population with a 50% recycling rate.
Despite the project's focus on waste disposal, robotic helpers will likely carry over into other industries as well. VOLVO says in the press release:
The purpose of ROAR is to demonstrate how we, in the very near future, will use smart machines to assist with a broad range of activities in society. This technology can be applied in many areas. Refuse collection is just one example.