Samsung is one of the few smartphone makers who keep experimenting with handset form. Last year at IFA 2014, the Korean tech giant took everyone by surprise when it unveiled the Galaxy Note Edge, a phone featuring an additional side-curved (edge) display.
Well, this year, Samsung will probably do it again - revolutionize the way we think smartphones should look like. We've been talking about the company's Project Valley (or Project V) for a while now. It's Samsung's foldable smartphone, which will apparently make a debut into the wild as soon as January 2016.
While some of the specs of the handset have already leaked online, we still don't have any clue about what the phone will look like and how the foldable mechanism will work.
Nevertheless, the folks at Patently Mobile dug out a patent which might just reveal how Samsung is handling the foldability problem.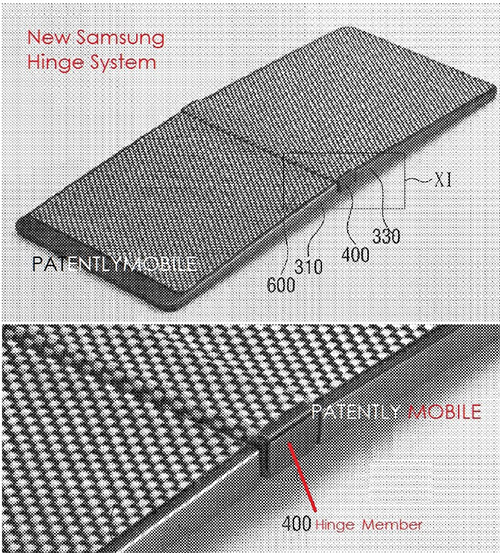 According to the details found in the patent, the company has developed a new "hinge system" which will hold together the parts of the foldable display. So the two parts will be coming together by virtue of a mesh-like material that acts like a hinge. Folding the display would also see the creation of a "valley" in the middle (clue to why Samsung might be internally calling the device "Project Valley").
Previous information would have us believe that Samsung is currently testing two versions of the foldable smartphone, one with Snapdragon 620 on the inside and the other one with a Snapdragon 820 chip under the hood.
Both models come bundling 3GB of RAM and a microSD card slot for expandable storage. Furthermore, the atypical handset will feature a non-removable battery under the hood. You probably remember that Samsung is said to be testing the Snapdragon 820 platform for the Galaxy S7 flagship, which is expected to make a debut on the market towards the end of February 2016.
So if the recent rumors are true, that means that Samsung's foldable smartphone will arrive a month earlier. However, just today we told you that the first handsets taking advantage of the Snapdragon 820 would be making it out in Q1 2016.
January does seem to be a bit too early, so we should take all this info about the foldable handset with a big grain of salt until we hear something from a more credible source.