It's pretty clear that Samsung has plans to launch another Tizen-powered smartphone after the success of the Z1, and the name of the next device meant to continue the saga of Tizen is the Samsung Z3.
The phone has already surfaced in a few live shots, but today the folks at Tizen Café are bringing us a fresh batch of images that compare the first-gen Z1 Tizen handset to the upcoming Z3 model.
As it's pretty obvious from the new images presented to us, the Z3 is going to be larger than the Z1, arriving into the wild with a 5-inch display. The specs of the device are pretty unremarkable, given today's standards, but the Z3 does stand out from the crowd because it comes equipped with Tizen OS out of the box. In contrast, the Z1 arrived with a 4-inch screen.
Previous leaks indicated that the Z3 would feature a Super AMOLED capacitive touchscreen that would support 720p resolution, which is another improvement compared to Z1's 480 x 800 pixel resolution.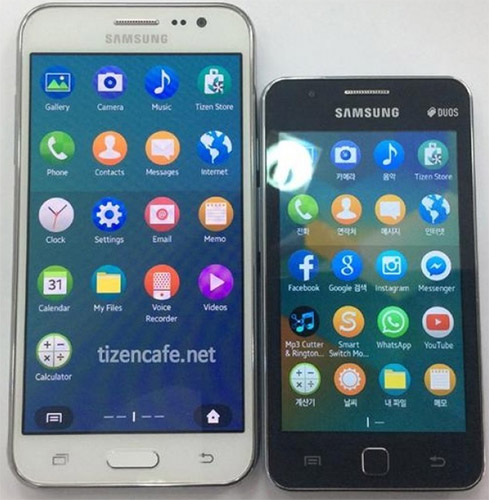 The Z3 is also expected to arrive with a more powerful 1.3GHz quad-core Spreadtrum SC7730S processor (or maybe Snapdragon 410, as some other rumors have indicated), 1.5GB of RAM and 8GB of internal storage (microSD card for memory expansion will also become available).
The new Tizen smartphone will feature an 8MP main camera with autofocus, LED flash and video recording, whereas on the front we'll see a secondary 5MP camera. Everything on board will be powered by a 2,600 mAh battery.
Samsung is also offering 3G and Wi-Fi connectivity, as well as Bluetooth 4.0, microUSB 2.0 and GPS with AGPS support.
We were expecting to see Samsung unveil the phone at the Tizen Developer Summit on July 30-31 in Bengaluru, India, but that didn't happen, so we must assume the Korean tech giant still has some work to do on it. The initial launch will cover territories like India, Bangladesh and Nepal, which makes us think that the phone will be aggressively priced.
India, for example, is a lofty territory for budget smartphone manufacturers, so if Samsung hopes to differentiate its Tizen smartphones, it has to bring out the big guns.