Windows 10 Mobile is expected to hit the shelves sometimes next month, and one of its key features will be Continuum, a new tool that allows anyone to connect a phone running the new OS to a larger screen and work on it with a mouse and keyboard, just like on a PC.
While this is indeed a pretty innovative way to convert a regular phone into a mini PC, it's worth knowing that everything will be possible with a special adapter that Microsoft will ship with phones supporting this feature.
The new device is internally codenamed Munchkin, and according to a report by Thurott.com, it will come with several connectivity options that should expand the "phone that becomes a mini PC" approach for all users.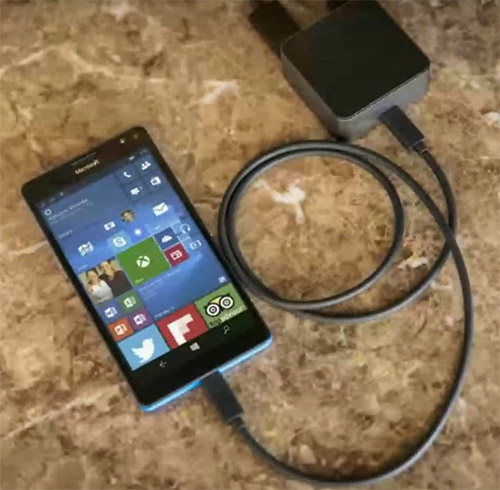 First and foremost, the new dock will come not with one, not with two, but with three USB ports. Right now, USB is the main connectivity standard for PCs and everyone has one, so Microsoft just couldn't ignore this and decided to offer it on the new Continuum adapter.
This way, when you connect a new device running Windows 10 Mobile to the dock and start working like on a traditional PC, you can also plug in a USB stick or external hard disk and access the files stored there. Obviously, other peripherals will be supported too.
An HDMI port will also be offered, so you can connect an external screen or a screen projector, which once again makes a Windows 10 Mobile handset a super portable PC. One DisplayPort will also be offered too, according to the report.
Interestingly, the adapter will come with its own power supply (but chances are that it can work without it too), so it should be capable of recharging your phone while you work on it.
The Continuum dock should debut with Windows 10 Mobile and the new Lumia devices, which, according to sources, could happen anytime next month.