While the world was paying attention to the arrival of AMD's newest mini-ITX graphics card, the R9 Nano, the American company launched in secret another card, built for mid-entry gaming, the Radeon R9 370X.<.p>
While the new 370X is new and fairly important, it hasn't been launched in the US yet, just in China. The new AMD card seems to be based around the same graphics processor as the older Radeon R9 270X, packing the same 1,280 stream processors, 80 TMUs, 32 ROPs, and arrives with either 2GB or 4GB of memory with a 256-bit bus. Also, according to TechPowerUp, it also came with a Sapphire Vapor-X variant overclocked to 1,200MHz, which is a great frequency for a card under the $200 mark.
Apparently, the reason AMD decided to launch the Radeon R9 370X just in China was that it wants to keep it as a regional product, probably to better handle costs and logistics regarding a device that may not sell well on such a large scale like its mid- to top-tier graphics cards. Although no date when it might hit US shores has been released, it would be a surprise for many if it didn't. After all, the main AMD market is placed in the US with many consumers choosing graphics solutions from AMD, especially when this card has been designed as a counter from the freshly launched NVIDIA GTX 950.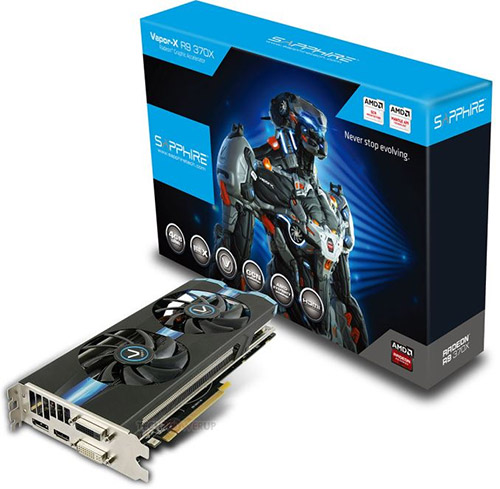 The new Radeon R9 370X comes just a few days after the new NVIDIA $160 GeForce GTX 950 card so it could easily present itself as a better alternative to the mid-entry card, and since the frequency, integrated memory and graphics processors, all surpass the GTX 950 at least on paper. It won't be surprising at all, if the R9 370X would ultimately dominate the GTX 950 in real performance as well, once reviews will start dissecting the card in detail.
Coming with an older "Pitcairn" GPU with a facelift, just like the rest of the R300 series it won't be, unfortunately, compatible with technologies like "FreeSync" or even HDMI 2.0. Although the card competes with the GTX 950 in "brute force" like GPU bandwidth and memory availability, the latter will enjoy newer features like HDMI 2.0 and G-Sync.