In two weeks from now you'll be able get your hands on the new AMD's Radeon Nano, the final entry in the company's high-end graphics card lineup based on new GPU architecture and High-Bandwidth Memory.
Hitting retailer shelves on September 10th for $649, the R9 Nano is designed to be a showcase piece for the space savings that HBM technology offers. With Fiji?s 4GB of VRAM confined to a quartet of small, stacked packages near the GPU die, the overall space occupied by the complete GPU package is quite small, just over 1000mm2. Similar to what we saw with the R9 Fury X, the lack of large GDDR5 memory chips allows AMD to build a smaller board overall. In addition, AMD has designed the supporting power delivery circuitry for the R9 Nano for just 175W, allowing the company to further cut down on the amount of space required for the card.
Since it's a full Fiji GPU the R9 Nano doesn't take an immediate hit to its performance relative to the R9 Fury X, featuring the same 4096 stream processors and 4096-bit ultra-wide HBM memory bus. The only real difference is that the R9 Nano will ship with a boost clock of 1000MHz versus R9 Fury X's 1050MHz boost clock, and the TDP is 175W versus 275W.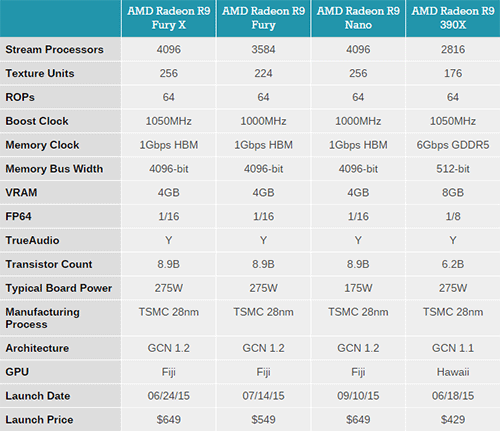 AMD says that the typical gaming clock will be around the 900MHz range, with the precise value depending on the power requirements of the workload being run.
Moving on, the physical board itself measures just 6" long, allowing the complete card to fit within the full width of a mini-ITX motherboard. Power delivery is handled by a single 8-pin PCIe power socket.
The card is kept cool by using a new open air cooler, an aggressive design that has been specifically tailored to allow the card to effectively dissipate 175W of heat in such a small space. The overall design is technically open-air, however with only a single fan AMD has been able to align the heatsink fins horizontally and then place the fan in the center of the heatsink.
Drilling down, the card's primary heatsink is a combination vapor chamber and heatpipe design. A copper vapor chamber serves to draw heat away from the Fiji GPU and HBM stacks, and then heatpipes are used to better distribute heat to the rest of the heatsink.
AMD is spending time comparing the R9 Nano to the reference R9 290X, AMD?s former flagship Hawaii card. The company claimns that the R9 Nano is 30% faster than the R9 290X, draws 30% less power than the R9 290X, and is much, much quieter than their former flagship.It should also offer around 2x the energy efficiency of the R9 290X, and of course it will be a much smaller card as well.