Hinted at in AMD's official roadmap, a new massive APU has been officially revealed by the company, and it borrows a lot from the new Fiji.
The new massive APU has been discovered in a paper submitted to IEEE (Institute of Electrical and Electronics Engineer) dubbed as "Exascale Heterogeneous Processor," or EHP in short, and packs a whopping 32 Zen cores and a new massive Greenland graphics die with 32GB of HBM2 memory.
Apparently, EHP will be a chip with several components mounted into it in the form of a number of processor cores, and a GPGPU unit, all combined with the interposer which bridges the die towards a maximum of 32 GB of HBM2 memory.
The leak shows the 32 Zen cores being placed around the main GPUm forming the APU chip, and then, the chip itself would be placed on a silicon interposer together with the HBM memory stacks, just like in the Fiji GPU architecture. Considering that the EHP is slated to be released in 2017, the cores themselves will probably be x86 Zens, although no clear names have been given in this regard.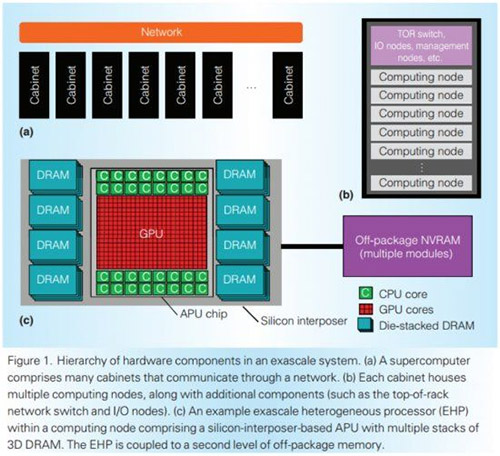 It is believed that the entire APU is too big to be manufactured in the same fashion as the Fijis, in a single die, because of the large number of cores that have to be placed on it together with the HBM stack that comes nearby. The two will probably be built separately and put together on the interposer later on in the assembly process. It's very probable that such a massive APU will have a number of 3072 stream processors.
Also, the processor will be constructed using AMD's Coherent Fabric, which is basically the interconnect for the purpose of the cores that communicate with the Greenland graphics. Each Zen core will have access to 512KB of L2 cache and 4 Zen cores will share 8MB of L3 cache in the Exascale Heterogeneous Processor.
That equates to a grand total of 16MB L2 Cache and 64 MB L3 cache. Each Zen core will be able to run two threads for a total of 64 threads in this huge APU. The processor is thought to have 8 DDR4 channels with a capacity of 256GB per channel.
However, the hype should be downplayed a little, as this is a solution for super-computers, which aren't built for average consumer markets. However, it will be a very good solution for the GPGPU market and a very powerful rival to the Intel Xeon Phi.