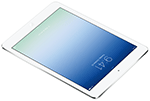 The Japanese-language Macotakara said on Saturday that its industry sources are describing the iPad mini 4 as a shrunken version of the iPad Air 2, with plans calling for the adoption of many of the same specifications, notably a new 8MP iSight camera, A8-series processor, and 802.11ac Wi-Fi.
Additionally, the new iPad mini 4 is rumored to see its thickness shaved down from 7.5mm to match the iPad Air 2's thickness of 6.1mm. It's also likely to gain the Air 2's laminated display with antireflective coating, according to the report.
Separately, the report looks to hedge recent rumors that Apple may forgo an upgrade to the iPad Air this year in order to reduce pressure on manufacturers who will be tasked with pumping out both a 12.9" iPad Pro and all-new iPad mini 4.
Citing sources, it claims that the design footprint — including the length, width, depth and thickness — of the iPad Air 3 will remain unchanged from the iPad Air 2, thereby raising the likelihood that an A9-powered version of the tablet will make a simultaneous debut alongside the new iPad mini 4 and iPad Pro this fall.