The hard disk is not going away any time soon, but make no mistake -- it is on death row. Solid state drives, or SSDs, are becoming more reliable, getting less expensive, and gaining larger storage capacities. It is only a matter of time before mechanical spinning drives get the heave-ho.
While consumers will be the first to shun hard drives, data centers will likely be the holdouts. Why? Cost and capacity. Right now, gigabyte per dollar is far less expensive compared to SSD. More importantly, however, SSDs just don't have comparable capacities -- yet. Today, Samsung announces the PM863 and SM863 data center SSDs. The latter features a top capacity of 1.9TB, while the former maxes out at a mind-blowing 3.8TB!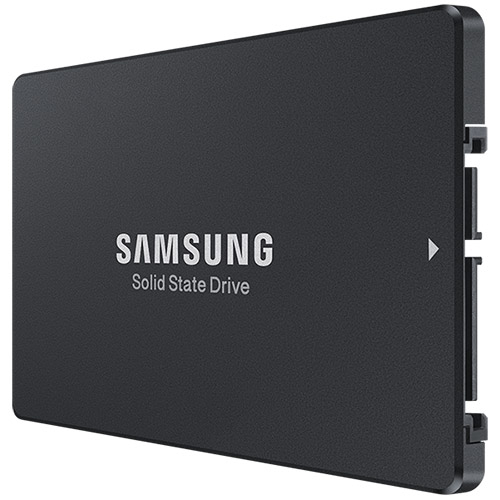 "Powered by Samsung's leading-edge V-NAND technology -- which improves the performance of SSDs -- the PM863 and SM863 deliver outstanding performance and reliability while still achieving low power consumption levels. The 3-bit MLC V-NAND-based PM863 is developed for mixed pattern applications and ideal for use in content delivery networks and streaming or Web servers. Alternatively, the write-intensive SM863 based on 2-bit MLC V-NAND is an optimal choice for online transaction processing (OLTP) and serves as an ideal choice for email and database servers", says Samsung.
The company further says, "the Samsung PM863 comes in 120GB, 240GB, 480GB, 960GB and now 1.9TB and 3.8TB capacities. It also offers read speeds up to 540 MB/s, and for the 240GB drives and above provides random read speeds of up to 99,000 Input/Output Operations Per Second (IOPS). The Samsung SM863 provides more options for configurable overprovisioning and is available in 120 gigabyte (GB), 240GB, 480GB, 960GB and now 1.9TB capacities. It also features read speeds up to 520 megabytes per second (MB/s) and write speeds up to 485 MB/s".
Keep in mind, these drives are not meant for consumers. The higher capacities -- 1.9TB and 3.8TB -- are likely way out of your price range. The 3.8TB PM863, for example, carries a suggested price of $2,199. The 1.9TB SM863? $1,259. Whoa.