Samsung's first round smartwatch is codenamed Orbis and will be sold as the Gear A. It will be unveiled alongside the Galaxy Note 5, possibly on August 12.
This watch has been in the news quite a lot recently, with a few details about it having been revealed already, including what it brings to the table in terms of user interface and user experience.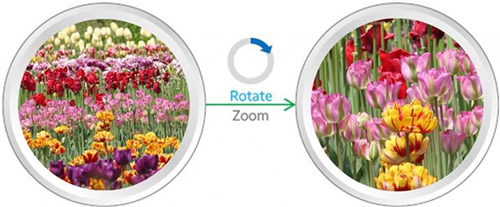 Now though we get a full list of specs for the device too. It is said to be powered by an Exynos 3472 chipset with a 1.2 GHz dual-core processor and a 450MHz Mali-400 MP4 GPU. It will have 768MB of RAM, 4GB of storage, Bluetooth 4.1, and a 250 mAh battery.
As for sensors, you'll get a GPS, accelerometer, gyro, barometer, as well as a heart rate monitor. One version will have built-in Wi-Fi too (802.11n), including Wi-Fi Direct.
A new, special version of Tizen will be on board, featuring an interface designed specifically for the round screen. This, by the way, will sport 360x360 resolution. As for size, it might be 1.65", but that's not as clear at this point.
The Gear A's bezel ring will be used to control the UI, as seen in the image above. This element may affect how big the screen itself can be in order for the watch to reasonably fit as many people's wrists as possible.