The already famous liquid-cooled Radeon R9 Fury X made headlines all the past month for its impressive performance supported by its new, cutting-edge HBM memory racking system. This time AMD launched the consumer-price-friendly, air-cooled Radeon R9 Fury.
Back at E3 2015, AMD came with a massive lineup presenting the new Radeon R9 300 series, the Radeon R9 Fury X and the mysterious and extremely powerful Quantum Project. However, these weren't the only graphics cards that AMD has launched with its new Fiji GPU. Along with the Fury X came the air-cooled Fury that features slightly lower specs, pricing at under $600 a piece. Although the Fury X has been launched and showed impressive performance, the Fury AC has yet to be seen. AMD has announced it'll come after the Fury X hits the markets this June, and apparently the card is here.
Positioned between R9 390X and the Fury X, this card offers higher performance potential than the R9 390X while coming with the same cutting edge 4GB of HBM memory. It can play any game at 2560 x 1440, and at Ultra HD (3840 x 2160) within reasonable graphics options. The card is exclusively designed for AMD's AIB partners to come up with their own air-cooling solutions.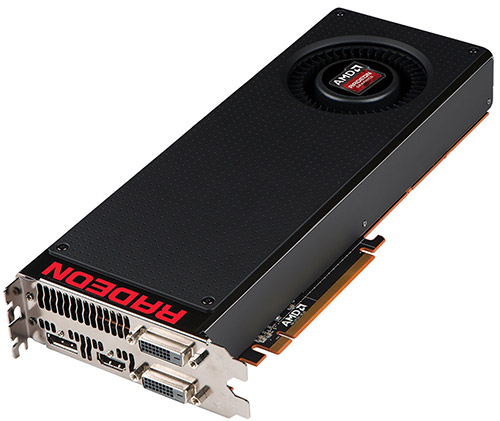 The R9 Fury is based on the same Fiji silicon that has 56 CGN compute units enabled out of the total available 64, yielding 3,584 stream processors. This is done to avoid overheating caused by the limits of the air-cooled system. The card also includes 224 TMUs, 64 ROPs, and 4 GB of memory across a 4096-bit wide HBM interface. The core is clocked at 1000 MHz, and the memory at 500MHz (512 GB/s). Custom design manufacturers will probably overclock the card and change the cooling solutions.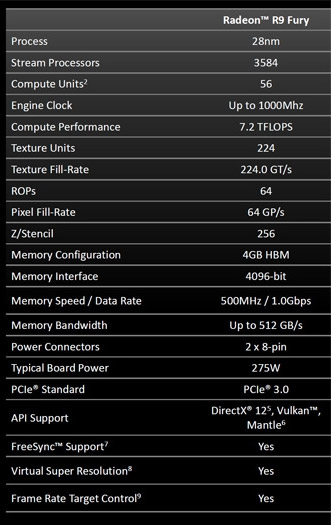 We previously found leaks that showed manufacturers like ASUS bringing their custom STRIX DirectCU III cooling solution on German retail websites, while Videocardz considers that ASUS will also bring a custom-made PCB. From what we can tell the ASUS Radeon R9 Fury will prove to be the highest rated Fury on the market.