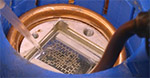 While it is conventional wisdom that computers run on electricity, thinking out of the box at times does have its fair share of benefits, too. For starters, Stanford scientist Manu Prakash has successfully developed a computer that runs on, of all things, water. Water is anathema to just about all electronics unless special provisions have been made beforehand, but somehow Manu Prakash managed to develop a computer that functions via moving water droplets.
Manu Prakash already shot to fame last year with the introduction of a paper microscope known as the Foldscope that brings origami to a new level, and this time around, the assistant professor of bioengineering at Stanford University has managed to achieve this new development with the assistance of two of his students, of course.
The computer works through this system – tint water droplets which remain trapped in a magnetic field, where said field is rotated or flipped, will let the droplets move in a precise direction and distance. This ended up as the basis of the computer clock, which would be the heartbeat of most, if not all, computers.
After all, computer clocks happen to be at the heart of the majority of all modern conveniences, ranging from smartphones to aircraft, DVRs and the Internet. A clock ensures that all operations within would start and stop at the same times, delivering synchronized information to boot. Prakash shared, "The reason computers work so precisely is that every operation happens synchronously; it's what made digital logic so powerful in the first place."