The next Galaxy Note launch is just around the corner, but we still did not manage to get the phablet's full list of specs. However, that is likely to change as we're getting closer to IFA 2015, the event during which Galaxy Note 5 will be officially introduced.
Even though we have little details on the phone's specs sheet, some info coming from multiple insiders offers us some insight on what's to come.
While some believe that the Samsung Galaxy Note 5 will boast a dual-curved display or flexible screen, others hope that the South Korean company will manage to put Android M inside when the smartphone launches on the market later this fall.
Obviously, none of the information has been confirmed yet, so it's hard to tell which of these rumors might be more accurate.
But here is something that seems more than a rumor since it's already been patented by Samsung. The folks over at SamMobile report Samsung Galaxy Note 5 might come with a new feature that will allow users to auto-eject the S Pen.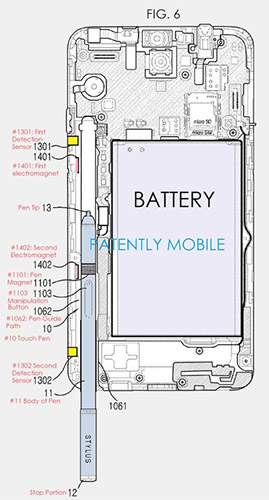 The S Pen auto-eject feature has already been patented by Samsung, but we don't know how the South Korean company plans to implement it inside the Galaxy Note 5.
We do know how it works, though. The S Pen features a magnet, while the Galaxy Note 5 has another magnet inside, which is why the stylus stays firmly inside its socket.
The auto-eject feature will basically reverse the magnets' polarization and make the S Pen stylus snap out of its socket. But how Samsung will implement this feature in the Galaxy Note 5 is still a mystery.
There might be a dedicated button that will activate the S Pen auto-eject feature, or perhaps a vocal command or a gesture that will trigger it.
Samsung will launch the Galaxy Note 5 in early September at IFA 2015 trade fair, but we expect more details on the phablet to emerge in the coming weeks so stay tuned.