Recently, a lot of unannounced Motorola handsets have been spotted around the web. For instance, we told you about the third-gen Moto X, which leaked with specs a few weeks ago.
A Motorola Windows Phone prototype also made an appearance in benchmarks, and the Verizon-bound Clark and Kinzie were also revealed in some leaked documents. But even with all this abundance of info, we couldn't tell you when to expect the first new Motorola device to make a debut into the wild.
Speaking to The Telegraph, Lenovo's Chairman and Chief Executive Yang Yuanqing has assured Motorola fans that the company (which acquired Motorola in 2014) is preparing some exciting products to be released in the near future.
He confirms that Motorola will be launching the first handset since the acquisition this summer, while making a reference to the whole Moto lineup.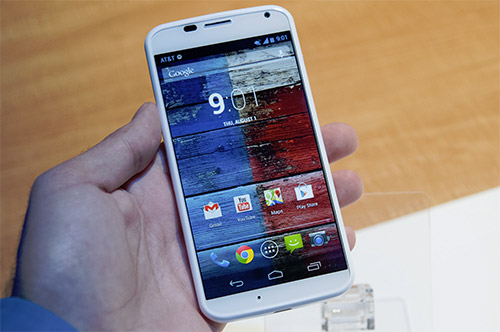 If we're to treat rumors as genuine, the third-gen Moto X should arrive into the wild with a stunning 5.2-inch AMOLED capacitive touchscreen that supports QHD resolution (2,560 x 1,440 pixels).
The phone will draw its life force from a hexa-core Qualcomm Snapdragon 808 processor outfitted with 4GB of RAM and either 32GB or 64GB of internal storage. There is no mention of a microSD card slot, so we could assume that Motorola will be taking the path Samsung also embarked on.
In addition, the Moto X (3rd gen) will pack a 16MP rear-facing camera with Clear Pixel technology. Also, up in front there will be a 5MP camera for video calls and selfies.
Another highly anticipated product from the Moto lineup is the Moto 360 2 smartwatch. The original Moto 360 attracted quite some hype around it when it was launched as the first round Android Wear smartwatch in history.
But since then, companies like Huawei or LG have launched other round smartwatches which come equipped with better specs. So Motorola really needs to revamp its original Moto 360, which launched back in September 2014.
Since purchasing Motorola, Lenovo climbed up as the third global smartphone maker, so the Chinese company is committed to the advancement of the brand.