AMD has unveiled a new roster of A-Series processor, the sixth-generation "Carrizo" system-on-chip (SoC). The A-Series consists of processors that AMD claims are the "most versatile notebook processor ever produced," said to provide improved streaming and gaming performance, with the range also using such a low amount of power that notebooks using them could potentially last for an entire day on a single battery charge.
The new Accelerated Processing Unit (APU) is the first to have HEVC hardware decoding support for notebooks, potentially allowing it to use higher-quality, lower-bandwidth streaming options than H.264-encoded streams. It is also the first to use a Heterogeneous Systems Architecture (HSA) 1.0-compliant design, and the first with ARM TrustZone support.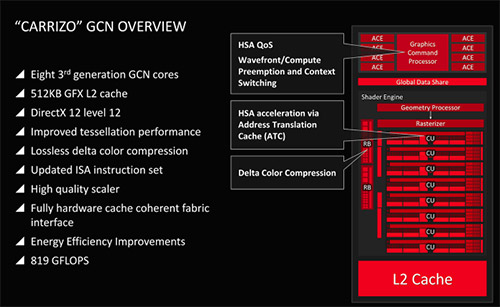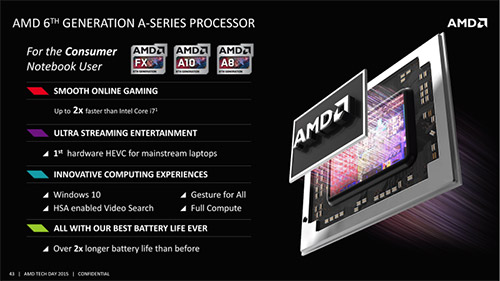 The line includes processors that have up to 12 compute cores, consisting of four AMD "Excavator" CPU cores and eight cores using AMD's Graphics Core Next (GCN) architecture. This in theory means a processor with half the battery consumption of its predecessor, with AMD claiming it to have double the gaming performance of its competitors.
When used with select Radeon R7 mobile graphics, the AMD Dual Graphics technology will apparently boost frame rates in games by up to 42 percent, with FreeSync said to help prevent stuttering and screen tearing. Support for multi-threaded APIs including DirectX 12, Vulkan, and AMD's own Mantle will also help gaming performance.
The inclusion of AMD Perfect Picture with Steady Video technology will allow the processors to be more than suitable to play back Ultra HD-resolution video, with the APU also having up to five times accelerated video encoding performance compared to CPU-only processing.
The first notebooks using the sixth-generation AMD A-Series processors are expected to go on sale later this month.