The ASUS Padfone was an atypical device comprising of a tablet and a smartphone users would dock in. But it seems that the market is on the lookout for something fresh.
ASUS hasn't really continued persuading with hybrid products such as this one, but if you are one of the users who liked the Padfone idea and you've been craving to see something new along these lines, then you might want to look into direction of Samsung.
Notebook Italia has recently dug up a patent filed by the Korean company, which describes a hybrid device made up of an Android phablet (probably the Galaxy Note) and a notebook running Windows 10, which acts like a docking station.
We don't yet know what Samsung plans to call the device or even if it plans to name it at all. We are talking about a patent, which means that the device maker might be only experimenting with such a prototype. So there's a pretty good chance that the model won't ever make it out on the market.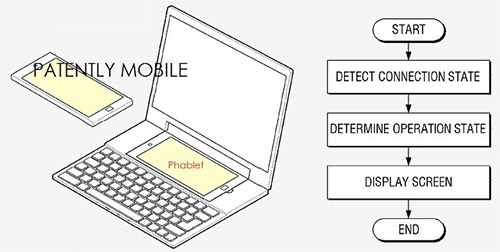 Anyway, the idea seems interesting at least. According to the sketches, Samsung's hybrid will allow users to place their Android phablet in a dock located on the Windows 10 laptop. Then the phone will act as a touchpad.
While the notebook takes advantage of a touch display, it does not have Wi-Fi, because it uses the smartphone's. It can also recharge the handset when it is out of power.
The dock does not integrate a CPU or hard drive, so the phablet is said to provide its brains to the overall affair. Interestingly enough, the patent reveals that, despite this aspect, "the first operating system may be Android (on the phablet), and the second operating system might be Windows (on the laptop)."
How could this be possible? Samsung explains saying that "the storage may store a program which is a group of various commands which are necessary to drive the phablet. Herein, the program includes not only an application program to provide a specific service but also an operating program to drive an application program."
"The operating program may include the first operating system and the second operating system. Specifically, the first operating system may be an Android operating system which is drive in a smartphone and the second operating system may be a Windows operating system which is driven in a notebook PC, desktop PC."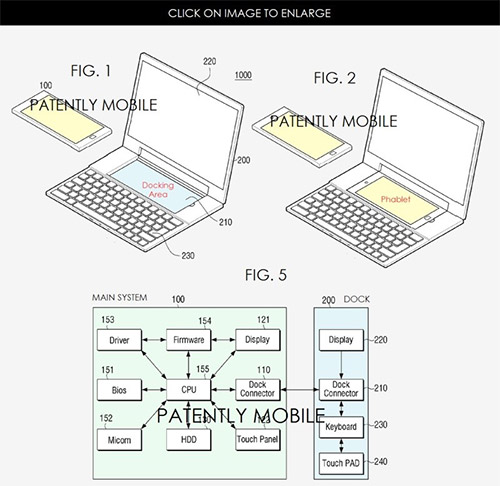 The dock is also said to be able to support other operating systems, so maybe we could see Tizen OS run on board of this hybrid.
Hybrid devices haven't been all that successful up until now, except for laptop/tablet computers maybe, but Samsung seems to believe that the winning formula is yet to be discovered.
After all, a lightweight laptop that could be used in league with your smartphone does seem like an interesting idea at least in theory. The idea of mobile device convergence isn't new, and Samsung appears to be willing to be taking the next necessary steps.