After the controversial Snapdragon 810, Qualcomm has the Snapdragon 820 next in line as its next-gen chip for premium smartphones.
But while the famously overheating SoC is an octa-core affair, a leaked comparison between the US chip giant's upcoming Snapdragon 820 and MediaTek's recently launched 10-core Helio X20 SoC suggests the former might actually be a quad-core platform.
You probably know the story already: more cores don't necessarily translate into better performance. Despite being dual-core chips, Apple's A8 or NVIDIA's Tegra K1 (Denver) are capable of delivering comparable performance to the quad- or octa-core models launched by MediaTek or Qualcomm.
However, not so long ago, MediaTek surprised everyone when it announced the first 10-core SoC called Helio X20. But by the look of things, Qualcomm is done augmenting the number of cores inside its silicone pieces.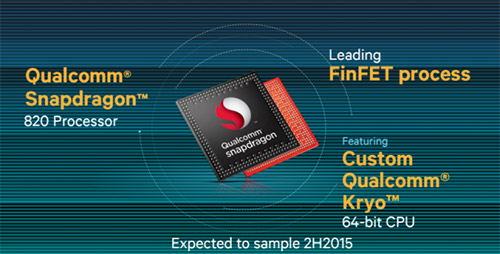 Четыре ядра будут разделены на два кластера. Один с частотой 1,7 ГГц, второй - 2,2 ГГц. Процессор будет поддерживать память LPDDR4 с частотой до 2100 МГц. Графический ускоритель Adreno 530 станет работать на 650 МГц.
According to the leak, the cores inside the upcoming Snapdragon 820 will be built on a 14nm FinFET process (probably manufactured by Samsung), which is said to bestow improved power efficiency and reduced heat generation (the main problem of the Snapdragon 810 might be solved, after all).
Instead of relying on the usual stock ARM cores, Qualcomm will go ahead and use its own ARMv8 architecture called Kyro. The platform should be able to offer high performance per core.
The four cores will be divided into two cluster cores, one clocked at 1.7GHz and the other at 2.2GHz. More than that, the silicone piece will support LPDDR4 memory clocked at up to 2100 MHz and will probably include Adreno 530 GPU running at 650 MHz.
Other features of Qualcomm's upcoming high-end platform include LTE Cat.10 (450/100 Mbps download/upload), Wi-Fi 802.11ac, GPS, GLONASS, and BeiDou.
The chip offers support for Ultra HD (3840 x 2160 pixel) displays and cameras with capacity of up to 28MP. Last but not least, it will allow the device bundling it to record Ultra HD videos at 60fps.
Qualcomm officially announced the Snapdragon 820 at MWC 2015, confirming in the process that the chipset would make use of Kyro cores.
The chip maker is expected to start shipping the SoC to manufacturers in the second half of 2015, so towards the end of the year, we should start seeing the first high-end models based on the new seemingly high-end architecture.