We have mentioned both AMD's Zen core processors, as well as Greenland HBM memory powered graphics in the past, but now we have a few more details.
The highest end compute HSA part has up to 16 Zen x86 cores and supports 32 threads, or two threads per core. This is something we saw on Intel architectures for a while, and it seems to be working just fine. This will be the first exciting processor from the house of AMD in the server / HSA market in years, and in case AMD delivers it on time it might be a big break for the company.
Each Zen core gets 512 KB of L2 cache and each cluster or four Zen cores is sharing 8MB L3 cache. In case we are talking about a 16-core, 32-thread next generation Zen based x86 processor, the total amount of L2 cache gets to a whopping 8MB, backed by 32MB of L3 cache.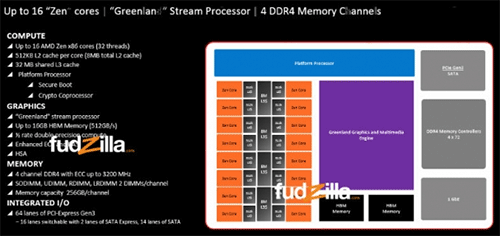 A theoretical quad-core would have four times 512KB cache and 8MB L3 cache. The platform supports secure boot and AMD's crypto coprocessor, which is important for corporate and business customers, and there is a very good chance that this processor will end up in the HSA compute market.
This new APU also comes with the Greenland Graphics and Multimedia Engine that comes with HBM memory on the side. The specs we saw indicate that there can be up to 16GB of HBM memory with 512GB/s speed packed on the interposer. This is definitely a lot of memory for an APU GPU, and it also comes with 1/2 rate double precision compute, enhanced ECC and RAS and HSA support.